This week, the chef reveals the recipe for a dessert that he particularly likes: clafoutis. Find out which fruit Philippe Etchebest slips into his preparation, and why he uses hazelnut butter! This recipe is economical, easy and above all delicious.
In his latest YouTube video, chef Etchebest offers us a changing and economical dessert idea : a prune clafoutis. 🥮
You can decline this recipe with other fruits such as cherries or apples, what is important is the clafoutis device! The chef offers the basic recipe, but if you wish, you can add a little alcohol, orange blossom, orange or lemon zest to your preparation to flavor it.
You have a choice whether or not to keep the pits in this recipe. The chef finds that keeping them helps keep the consistency and texture of the fruit which is more soft and pleasant. It's the same if you want to make this clafoutis with cherries! It's up to you, according to your tastes.
Philippe Etchebest uses peanut butter in her recipe, find out why in the recipe below! 🧈 🌰
The prune clafoutis recipe by Philippe Etchebest
Ingredients
For 6 persons
100g butter
50 cl of milk
2 eggs
4 egg yolks
125g caster sugar
75g flour
300 g prunes (with or without pits)
Her recipe video
Preparation
Start by preheating your oven to 200 degrees.
Boil the milk in a saucepan.
Melt your butter over low heat in another saucepan.
In a bowl, pour the sugar and two whole eggs.
Crack the rest of the eggs, separating the whites from the yolks.
Trick : keep the white to make meringues.
Blanch the sugar and the eggs, whisking vigorously with a whisk.
Add your flour in small amounts to avoid lumps.
Mix your dough well.
Hazelnut butter 🧈 🌰
You can simply melt the butter or bring it to a boil peanut butter. The chef likes the taste of hazelnut butter which gives a little roasted taste to the dessert.
Add your butter to the flour, eggs, sugar preparation. Mix well using your whisk.
Add your hot milk and mix again.
Take your cooking container and butter it generously.
Add your prunes at the bottom. You can put them with or without pits.
Add your lukewarm preparation to the prunes.
Bake for 25 to 30 minutes at 200 degrees.
Halfway through cooking, add prunes above the device, so that they are visible.
Sift with icing sugar and serve!
Philippe Etchebest – Cook well accompanied with my Mentor method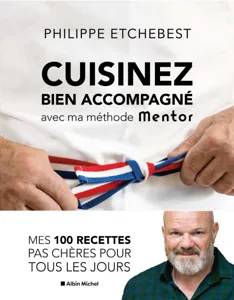 © DR
Amazon

15.99

Fnac.com

19.91

Amazon Marketplace

37.73
The price offers are listed in ascending order of price. The prices displayed are inclusive of VAT (all taxes included). The postage price displayed corresponds to the cheapest home delivery offered by the merchant. aufeminin.com references in its price tables the merchants who wish to be present on the condition that they display prices with VAT (including VAT – all taxes included) and that they present an excellent level of quality of service and customer satisfaction. This referencing is paid. Our price tables are therefore not exhaustive of all the offers and merchants present on the market. The offers present in the price tables are updated daily and several times a day for certain shops.
Read also :